Introduction to Gravel Grinding
This past weekend, a few of us here at Universal Cycles went out to The Dalles, OR to do a ride called the "Dalles Mountain 60". Just as it sounds, the ride is roughly 60 miles in length and climbs up and around Dalles Mountain. What intrigued me about this ride is that over 30% of it is dirt roads. I've been riding mountain bikes for over 25 years, so riding on dirt isn't a new experience. But, mixing a road ride with dirt? I haven't done that unless I have to ride on the road to get to the off road. First of all, I would like to give credit where credit is due. This ride is put together by the great people at VeloDirt. I'll explain the ride experience and then touch base on this group again.
Given that this was my first "Gravel Grind", I was very curious to see the turnout of people and bikes. I decided to ride my Salsa Fargo, as I can spend all day (everyday!) on it. I simply love the bike. When the riders started to assemble, I was fairly surprised at how many regular road bikes there were. Carbon . . . high end Mavic wheels . . . skinny tires, etc. Knowing that my big 29 x 2.2 Conti X-King tires would be a disadvantage on the road, I left about 15 minutes before the main group. It was a nice easy road ride to the beginning of the first climb: 2500 feet of climbing, all on a dirt road!! It was a blast! All those carbon road bikers flew right by me in a small pack. They were all smiling! My smiles were sure to come as I slowly passed a few from their 25c tire nemesis: flats!! It was readily apparent that the skinny tire folk were taking their chances running road tires. Up the road, I played leap frog with a few riders. They would get a flat and stop to fix it. I would ride by them. They would catch up and blow by me again. Etc. Etc. The greatest thing about it was that no matter what, we were all just happy to be on bikes. As the ride went on, I began to feel as though this was a mix between a festival (for those who wanted it) and a hard, fast ride (for those who wanted it). We rode past an old homestead and it felt like we were on an adventure already. By the time we reached the top of the climb, we had an outstanding view of 4 Pacific Northwest volcanos! After that, we had a screaming good gravel road descent. I was amazed at the incredible handling skills of everyone on their bikes. For me, it was easy: bomb down the hill with my 2.2" tires. For others, choosing the right line would make all the difference. At the bottom of the descent, I met up with the guys I was riding with and noticed the wind. I didn't think to much of it at that point. Whoops! The miles passed quickly after that. We were over 20 miles in and it was simply beautiful. At mile 30, we came to a small town called Biggs. Half way through. As this was a loop, we had ridden mostly north and east. Now, it was time to head west. Being the type of person that I don't necessarily think too far into the future, I hadn't put together that we were riding along the Columbia River Gorge: Uh, it's a world capital for windsurfing. Yes, we hit it. The wall of wind. It was clear that the next 30 miles were going to be fairly brutal. A test of will, so to speak. After a flat road section, we were about to get back on dirt. I'll never forget Moody Rd. Moody road was all gravel with a huge headwind. O.K., I can deal with that. Unfortunately, I also dealt with the 13% section of dirt road climbing with that headwind. Simply put, it was a huge challenge. It felt great. We rode past a bull and getting gored might have been less painful! Cycling can be inherently painful, and this was a star example of it. After all that pain, we ended up riding an absolutely beautiful valley road next to a creek. It was like taking a step back 100 years, as it seems like some of the farms probably haven't changed much since then. We slowly rode back to the starting point from there. Along the way, we road with some very friendly people. I pedaled with John for a while. He was riding a vintage 80's Schwinn. This was his third Dalles Mountain 60 ride. Thanks for the great miles, John! Needless to say, we were tired by the end. My Garmin registered about 4400 feet of climbing and just under 60 miles. It was time for a well deserved beer.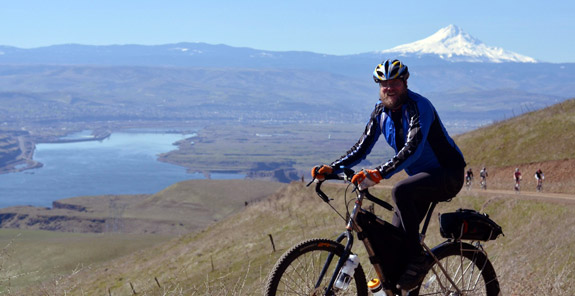 (Photo Courtesy of Gabriel Amadeus: Velodirt.com)
Over this past week, I have been thinking about this first "gravel grinding" experience. What did I like about it? Why was it so different from anything I have done before? To sum it up the best, I supposed I would say that this ride put some adventure back into riding for me. It wasn't just a simple road ride. It offered the ability to feel like I was getting away from it all, getting away from the cars, the city, etc. But, because of the format, we were on bikes that could cover some good distance. I felt as though I could pedal anywhere. If I got off course . . . . who cares! I could simply pedal to the next road, town, etc. I felt a connection to so many riders before me who didn't have paved roads. Those were the very riders who helped develop bicycles, bike riding, touring, racing, etc. To simply think "this ride would be exactly the same 100 years ago" was a very unique experience.
At the end of it all, I have a few things to point out. First of all, gravel grinding is really, really fun. It can be whatever you want it to be. On this ride, there were racers, tourers, recreational riders, any anything in-between. The bike range was incredible. One rider did it on a full suspension Yeti with slick tires. I was on my Fargo which is a touring mountain, do it all, bike. I saw vintage bikes, like John's Schwinn, work horse bikes, like Surly Long Haul Truckers, cross bikes, and some really gorgeous titanium bikes. The second thing I learned is tire choice: I can say that an optimal tire choice would be something right in-between road and mountain. 28-32c with some small tread would be perfect. It would alleviate the flat danger and still keep the rolling resistance to a minimum. But, that being said, for this ride, almost any tire did the job. Finally, getting back to where I started this article at, the third thing I learned about was VeloDirt. I want to take a minute to say a huge Thank You to the people who organized this ride. The route was perfect. The description of the ride was absolutely spot-on. Not only was there a detailed map available, but GPS coordinates went right into my Garmin. This was only my first gravel grinder. But, with VeloDirt around, it is surly not my last. I highly encourage everyone to take a look at their website at http://www.velodirt.com. It is filled with rides, blogs, and some of the continuing cutting edge evolution of how we all ride bikes. As I look for, and plan, new rides for myself, I can surely see that they won't just be road or just be mountain. When you combine the two, the adventure only starts. WIthout hesitation, I would suggest trying gravel grinding. It is sure to leave you with smiles.
Keep the wind at your back,
Mike